The Living Center of Manhattan
A radical departure from the traditional nursing home, The Living Center of Manhattan will be the first high-rise Green House® skilled nursing facility constructed in a highly populated urban setting. Elders in New York City will be able to continue living their lives the way they want, in the community they know and love.
Located on West 97th Street, between Amsterdam and Columbus Avenues, The Living Center of Manhattan will be designed to complement the aesthetics of the surrounding neighborhood. This 414-bed facility will combine skilled nursing and post-acute rehabilitation in one high-rise building, complete with both outdoor and indoor public spaces.
The Living Center of Manhattan will feature:
A total of 414 beds

Long-term skilled nursing care for 264 elders (A total of 22 twelve-bedroom Green House® homes)

A state of the art therapy center offering post acute care for 150 people on five floors

Green space for residents, families, volunteers, and the community

A public floor, featuring community amenities
It's urban living, down to the smallest details. While The Green House® model promotes resident privacy, elders will still feel like they're a part of the hustle and bustle of New York City through the social interactions the design supports. In addition to the common living area that is central to each home, The Living Center's lower floors will open to an 8,675-square-foot garden featuring a wheelchair-accessible herb garden, outdoor sculpture area, and meditation gardens, as well as library lounges, places of worship, a spa, café, and a Judaica collection.
Staff Matters
The staff at The Living Center of Manhattan will be different from that of a traditional nursing home. Each Green House® household will be staffed by a consistent, self-managed team of direct-care providers empowered to run the home. They will provide day-to-day care in consultation with a team of clinical professionals, as well as nurture and facilitate the elders' preferences and choices.
Unique to the Green House® model are the Adirim – from the Hebrew word meaning "noble," these staff members will be Certified Nursing Assistants who have received an additional 120 hours of specialized training in the Green House® model or care. In addition to providing direct care, these individuals will help the household with cooking, laundry and light cleaning duties. What differentiates the Adirim from traditional nursing home caregivers is the amount of time they spend caring for, and engaging with, elders.
Long-Term Care at The Living Center of Manhattan
The Green House® model of care returns privacy, dignity and autonomy to elders by providing care in small, self-contained households that feel like private homes.  Every effort from the ground up will be dedicated to creating a home in which individuality, freedom, and choice are top priorities, as well as delivering expert clinical care. The typical floor plan includes:
12 Private Bedrooms/bathrooms

1 Living Room

1 Chef's Kitchen

1 Dining Room

1 Den

Outdoor Terrace

Personal Laundry

Program Area
One of the key tenets of the Green House® model is a communal dining experience. If an elder enjoys cooking, he or she is welcome to work with the Adirim in preparing meals. Meals are served at the communal dining room table, where lively, family-style conversation is welcomed – just like home. If an elder gets hungry later on, one of the dedicated staff will prepare a snack for them.
Each person has a private room, a private bath, and sets his or her own schedule. At the heart of each household is a central living room with fireplace, dining room, full-size open kitchen, den and terrace. Bedrooms are a short distance from common areas, and elders and family members are encouraged to visit the kitchen and participate in meal preparation.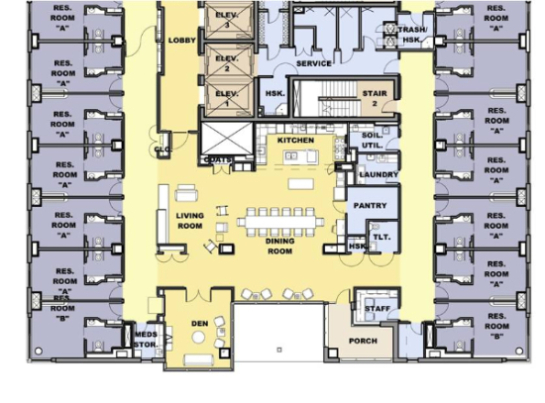 The Rehabilitation Center
The Living Center of Manhattan will feature a Rehabilitation Center comprised of advanced rehabilitation suites designed to get patients the therapy they need to recover from injury or illness and return home. The Rehabilitation Center will encompass four floors, each with its own rehabilitation suite and a mix of private and semi-private bedrooms. It will deliver a warm, comfortable and modern surrounding in which patients can work on recovery supervised by a highly experienced clinical staff.
Treatments will include:
Physical Therapy

Occupational Therapy

Speech/Swallowing Therapy
Additional medical services available in–house include: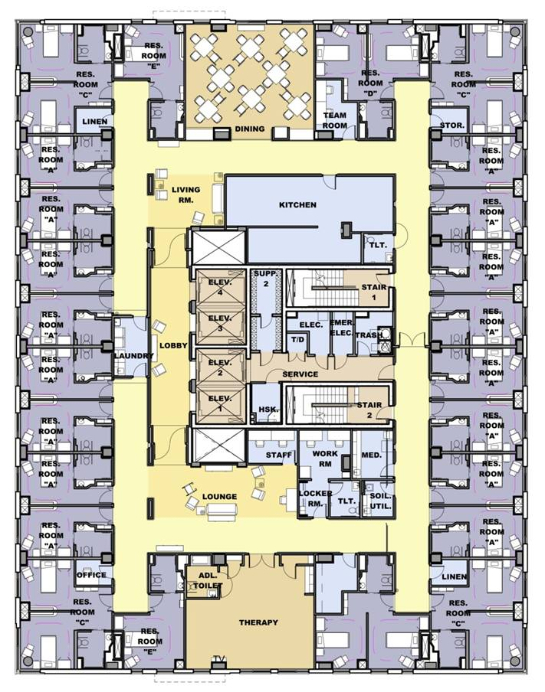 An Urban Inspiration
For most Manhattanites, "home" means a vertical apartment building in the midst of a bustling urban environment. For the first time, the Green House® model of care will be implemented in such an environment with The Living Center of Manhattan – and elders will have a home like the ones in which they have always lived.
The Living Center will be resonant with the culture, diversity and residential tenor of its Upper West Side neighborhood. The building will feature kosher households and a household specifically for LGBT individuals—a first for New York City.
As the first Green House® high-rise and the single largest eldercare capital project in New York, The Living Center of Manhattan will change the landscape of senior healthcare in New York City and serve as a model for urban areas across the nation.
To discuss how you can help build The Living Center of Manhattan or Small Houses at Sarah Neuman, please contact Katie Katz, Capital Campaign Manager at 212.870.4763.